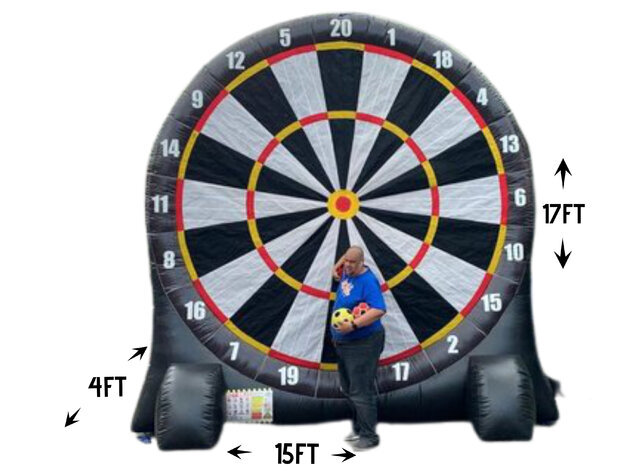 Soccer Dart Special Was 379
Actual Size: 4L 15W 17H
Outlets: 1





​ ​

Base Price - Up to 6 Hours of Fun!
$279.00
Keep it Overnight!-

Great Value

$348.75
Keep It All Weekend Fri-Sun -

Best Value

$418.50



Giant Soccer Challenge Rental In Miami - We Rent Fun from We Rent Fun on Vimeo.
Introducing the Soccer Dart, the ultimate game that combines the precision of darts with the excitement of soccer! This innovative and thrilling game is perfect for players of all ages and skill levels.
The Soccer Dart features a giant inflatable dartboard with various scoring zones, just like a traditional dartboard. However, instead of throwing darts, players kick a soccer ball at the target, aiming to hit the highest-scoring areas and rack up points.
With its sturdy construction and vibrant colors, the Soccer Dart is not only visually appealing but also built to withstand hours of intense play. It can be set up both indoors and outdoors, making it a versatile game that can be enjoyed in any setting.
Whether you're organizing a backyard party, a corporate event, or a school carnival, the Soccer Dart is sure to be a hit. It's a fantastic way to engage and entertain guests, fostering friendly competition and creating unforgettable memories.
Not only is the Soccer Dart fun, but it also offers numerous benefits. It helps improve coordination, agility, and accuracy, making it an excellent activity for athletes looking to enhance their skills. Additionally, it promotes teamwork and sportsmanship, as players can compete individually or in teams.
Setting up the Soccer Dart is quick and easy, and it can be adjusted to different difficulty levels to accommodate players of varying abilities. It's suitable for both casual play and more competitive tournaments, allowing everyone to enjoy the game at their own pace.
So, whether you're a soccer enthusiast, a party planner, or a sports facility owner, the Soccer Dart is a must-have addition to your collection of games and activities. Get ready to kick, score, and have a blast with this exciting and engaging game!